Patriots return blocked punt for TD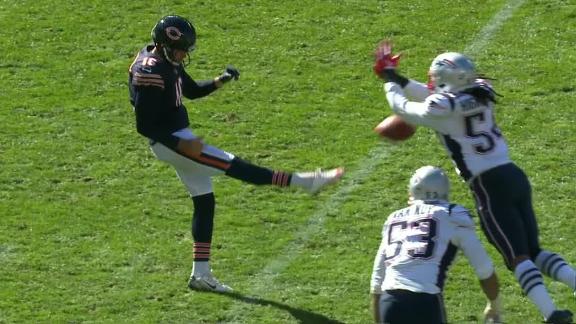 Patriots stop Bears' Hail Mary pass on 1-yard line as time expires
Mitchell Trubisky launches a Hail Mary and the Patriots stop Kevin White from reaching the end zone as time expires.
Patterson burns Bears' defense for 95-yard kickoff return TD
Cordarrelle Patterson makes up for a fumble earlier in the game and races 95 yards for a kickoff return touchdown, the sixth of his career.
Edelman fights through Bears' defense for early TD
Tom Brady swings a pass out to Julian Edelman, who plows his way in for a 9-yard touchdown on the Patriots' first drive vs. the Bears.
Michel carted off field with apparent knee injury
Sony Michel gets his knee twisted before fumbling on the play and is carted off the field in the second quarter vs. the Bears.
Patterson, Van Noy proud of special teams' TDs
Cordarrelle Patterson, who returned a kickoff for a 95-yard TD, says he's the best returner in the league. While Kyle Van Noy talks about his "Gronk spike" and first NFL score.
Brady, Pats on Bears' Hail Mary attempt
Tom Brady, Devin McCourty and Josh Gordon talk about the Pats' defensive efforts when Mitchell Trubisky threw up a 54-yard Hail Mary to Kevin White that fell 1-yard short.
Trubisky after Hail Mary: 'I thought he was in'
Mitch Trubisky takes us through the Bears' final desperation play, which came up just a yard short of the end zone before time expired.
Nagy on loss: 'Chances are slim' after self-inflicted wounds
Matt Nagy is high on Mitch Trubisky, but low on his special teams' unit after giving up two touchdowns in the Bears' 38-31 defeat to the Patriots.
Hopkins burns Ramsey for awesome 1-handed snag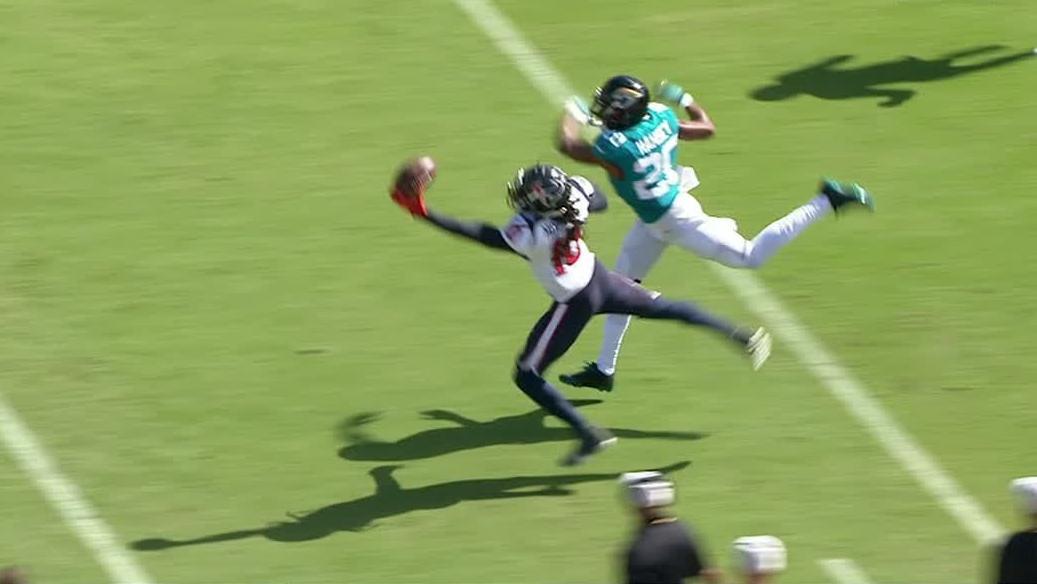 Panthers complete comeback with Olsen's TD
Trailing 17-0 in the fourth quarter, Cam Newton and the Panthers come all the way back capped off by Greg Olsen's 1-yard touchdown.
Cousins drops a dime to Robinson for Vikings TD
Kirk Cousins finds Aldrick Robinson in the end zone for another Vikings touchdown in the fourth quarter.
Catanzaro drills 59-yard game-winning FG for Bucs
After missing his last attempt at the end of regulation, Chandler Catanzaro nails a 59-yard field goal in overtime to give the Bucs a 26-23 win over the Browns.
Johnson rips of 71-yard run for Lions
Kerryon Johnson breaks through and takes off for a 71-yard run to set up a field goal for Detroit.
Dolphins' Drake sprints past defenders for 54-yard TD
Kenyan Drake flies past Detroit defenders and scores on a 54-yard run.
Fantasy Football
Close-up video appears to capture Rajon Rondo spitting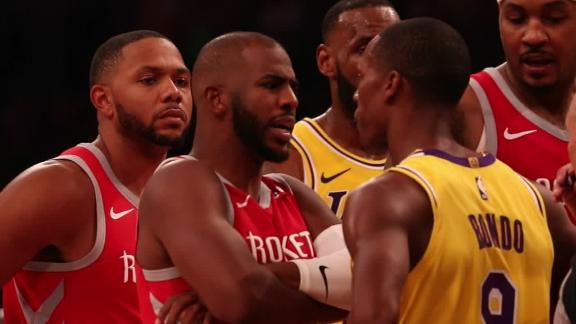 Punches thrown; Rondo, CP3 and Ingram tossed
James Harden gets shoved by Brandon Ingram going up for a basket, leading to Rajon Rondo, Chris Paul and Ingram throwing punches, with all three ejected.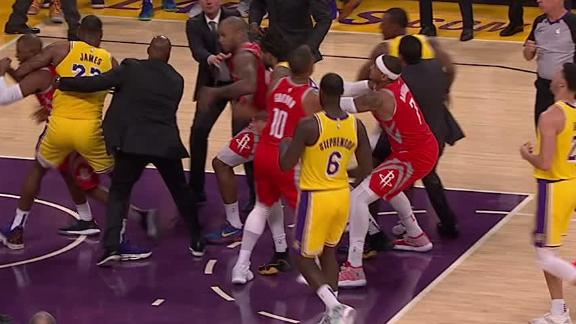 Stephen A. says Brandon Ingram should get 'stiffest suspension'
Stephen A. Smith reacts to the Rockets-Lakers brawl and why Brandon Ingram should receive the longest punishment.
Carmelo calls Rondo's alleged spitting 'unacceptable'
Carmelo Anthony expresses his thoughts on Rajon Rondo allegedly spitting in Chris Paul's face which escalated the fight during the game.
Russillo: I liked the fight
Ryen Russillo talks with SVP about the scuffle between the Rockets and Lakers saying he enjoyed the fight because he thinks people are tired of refs letting James Harden get away with things.
Eric Reid calls Malcolm Jenkins a 'sellout' and his actions 'cowardly'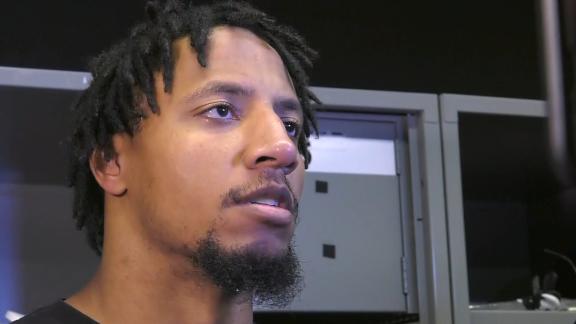 Customize ESPN

Sign up for FREE!
Ranking your NBA team's 2018-19 drama
Eric Heintz

Is there any Stranger Thing than what the Lakers did this summer? Is there anyone Leftover in Cleveland? Did we just turn all 30 NBA teams into TV dramas? Yes ... yes, we did.
Morry Gash/AP Photo

From Wisconsin RB Jonathan Taylor to Houston DT Ed Oliver and everyone in between (including some guy named Tua), these are the first half's best players.
Matt King/Getty Images

"I wasn't really focusing on Bolt too much. I was more worried about Ross McCormack and also Jordan Murray," defender Josh Symons told ESPN.