February, 17, 2018
Feb 17
2:19
PM ET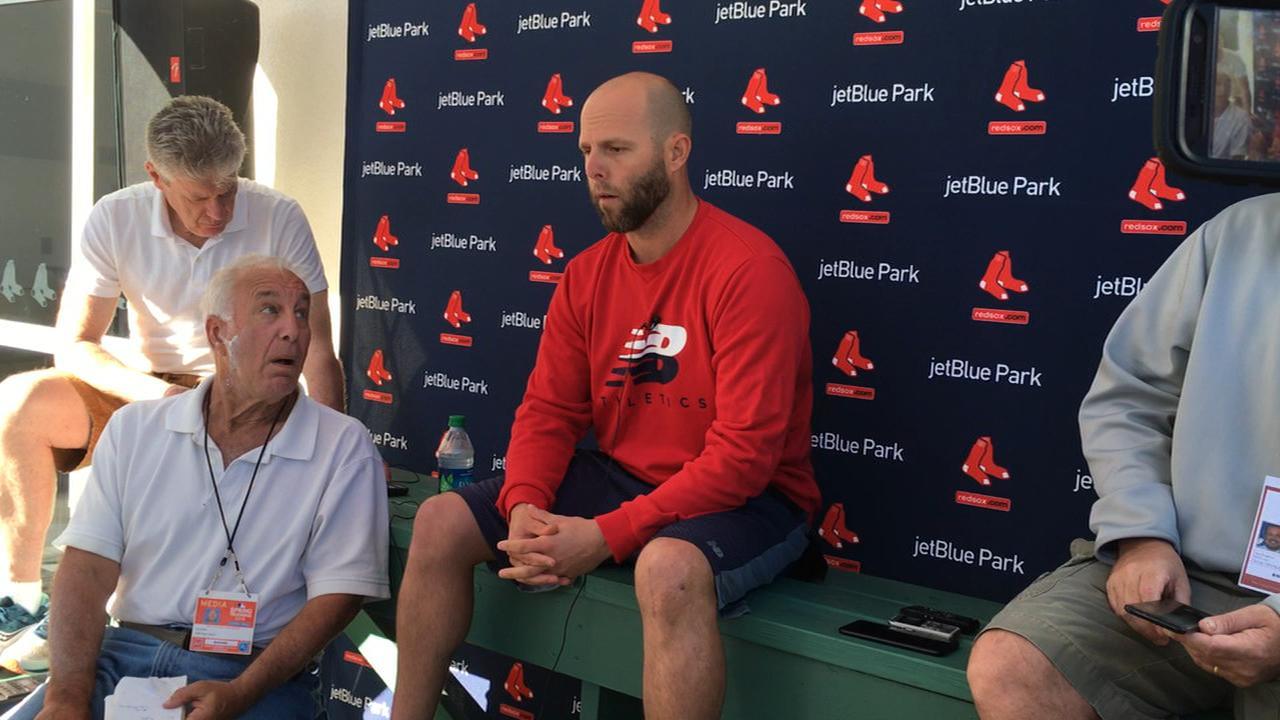 FORT MYERS, Fla. -- As the longest-tenured player on the Boston Red Sox, Dustin Pedroia understands and accepts his role as the team's leader.
But he also knows he can't do it alone.
Pedroia was in a pensive mood Saturday as he arrived at spring training for his 13th major-league season. The feisty second baseman spoke for more than 20 minutes about the state of his surgically repaired left knee, the Red Sox's tumultuous 2017 and his outlook for this season. His most insightful comments, though, came in regards to the team's leadership, a popular topic in the 16 months since David Ortiz retired.
A leader mostly by example throughout his career, Pedroia usually appears uncomfortable standing in front of lockers and speaking for teammates. But he noted that the rosters of the Red Sox teams that won the World Series in 2004, 2007 and 2013 were populated by several veteran leaders, from Ortiz and Jason Varitek to Trot Nixon, Johnny Damon, Mike Lowell, Alex Cora, David Ross, Mike Napoli and Johnny Gomes.
"It's not one leader," Pedroia said. "And everybody always says that. It's not one guy in baseball. It's me, it's Mookie (Betts), it's Bogey (Xander Bogaerts), it's Jackie (Bradley Jr.), it's Benny (Andrew Benintendi). It's our team. So, we have to be together and know that."
But most of those players are far younger than Pedroia and seemed unsure of themselves last season when it came to leadership. The Red Sox have several prominent veterans on the pitching staff -- Chris Sale, David Price
February, 16, 2018
Feb 16
3:01
PM ET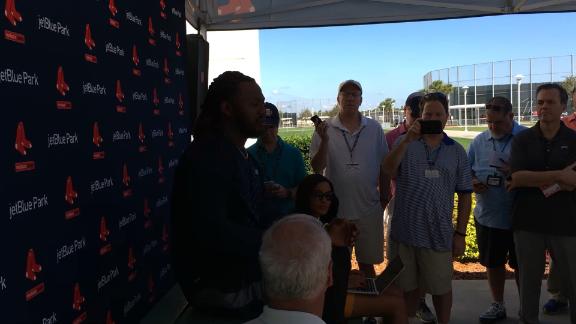 FORT MYERS, Fla. -- Hanley Ramirez has a solution for the Boston Red Sox's power-hitting deficiency.
A healthy Hanley Ramirez.
"Oh, yeah. No doubt," Ramirez said Friday after reporting to spring training. "You're gonna see it, for sure. Literally, I was hitting with one arm last year and I hit 23 [home runs]. Now that I feel good, there are not going to be excuses. Better go out there and hit 30."
As a team, the Red Sox ranked last in the American League last season with 168 home runs, the first time they finished at the bottom of the league in that category since 1993. Mookie Betts led the team with 24 homers, fewer than Giancarlo Stanton or J.D. Martinez hit after the All-Star break.
Throughout the offseason, Red Sox president of baseball operations Dave Dombrowski has listed "power hitter" as the team's top priority. But the Sox have been unable to agree on contract terms with Martinez, the marquee name among more than 100 free agents who remain unsigned.
It was notable, then, that Ramirez showed up to camp two days early and declared he's healthy after having left shoulder surgery in October. He batted .242 with a .750 OPS and drove in 62 runs last season, production that he labeled as "terrible." But Ramirez is also only one year removed from a 30-homer season in 2016 and is confident he can reach that level again.
"I know I can get 100 RBIs and 30 homers," he said.
February, 15, 2018
Feb 15
6:59
PM ET
FORT MYERS, Fla. -- The Boston Red Sox are on the verge of a reunion with free-agent utilityman Eduardo Nunez.
The Sox reached an agreement Thursday night to re-sign Nunez, a source told ESPN's Buster Olney. The deal would be for one year with an option for 2019, according to a source. But it also is pending the passage of a physical -- hardly a formality, given the way Nunez finished last season. FanRag Sports first reported the deal with Nunez.
The final image of Nunez in 2017 was him getting carried off the field after reinjuring his right knee in Game 1 of the division series against the Houston Astros. Nunez missed most of September with a sprained posterior cruciate ligament.
Although Nunez didn't need surgery in the offseason, he also was still rehabbing as of mid-December. The Red Sox nevertheless expressed interest in bringing Nunez back and remained in contact with his agents at ISE Baseball.
Nunez, 30, joined the Red Sox after a July trade with the San Francisco Giants and made an immediate impact. A righty-hitting utility infielder, he filled in for injured second baseman Dustin Pedroia and slashed .321/.353/.539 with eight homers in 165 at-bats for Boston.
Within the industry, the presumption was that Nunez was seeking an opportunity to play every day. That won't necessarily exist with the Red Sox, although Nunez's priorities might have changed during a historically sluggish offseason for free-agent signings.
Nunez's value stems from his versatility in the infield, although he is regarded as a below-average defender at every position. By re-signing Nunez, the Red Sox would add insurance for Pedroia, who underwent extensive knee surgery in October and almost certainly won't be ready for Opening Day.
Once Pedroia returns, Nunez could move around the field, filling in at multiple positions and perhaps even getting at-bats as a designated hitter.
The Red Sox continue to seek a middle-of-the-order power bat and have made a five-year offer reportedly worth between $100 million and $125 million to free-agent slugger J.D. Martinez
February, 15, 2018
Feb 15
2:30
PM ET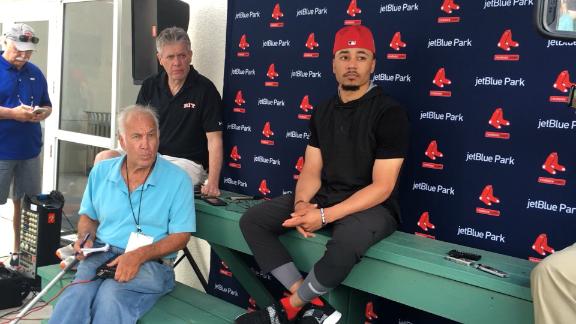 FORT MYERS, Fla. -- If Mookie Betts doesn't eventually sign a long-term contract extension with the Boston Red Sox, he insists it won't be because of anything that was said about him during an arbitration hearing last month.
Betts sat in the room Jan. 31 when a panel of three independent judges heard arguments over the star right fielder's value. Betts was seeking a $10.5 million salary. The Red Sox wanted to pay him $7.5 million.
Ultimately, the arbitrators ruled in Betts' favor, but not before the Red Sox presented reasons why they believed he wasn't worth as much as he thought.
"Just seeing that side of it is pretty interesting," Betts said Thursday. "I like those type of things, kind of see how people debate. There were no hard feelings, nothing wrong. I love these guys. Nothing changed."
But there's a reason why the Red Sox avoided taking a player to a hearing for 13 years before going to the table with reliever Fernando Abad last year. It's inherently uncomfortable for a team to have to point out the flaws of a player it will employ during the season.
Betts, 24, is naturally inquisitive, often asking questions of older teammates and seeking feedback from coaches and even club executives. And most agents, including Betts' representatives at the Legacy Agency, usually prepare players for what to expect in a hearing by advising them not to take anything to heart.
"You can't argue with the facts," Betts said. "You just have to kind of listen. It was one of those things where I didn't know this, that or the other, but I didn't take anything personal. Nothing that was said was personal. It was all just a debate that both sides stated fact."
February, 15, 2018
Feb 15
11:40
AM ET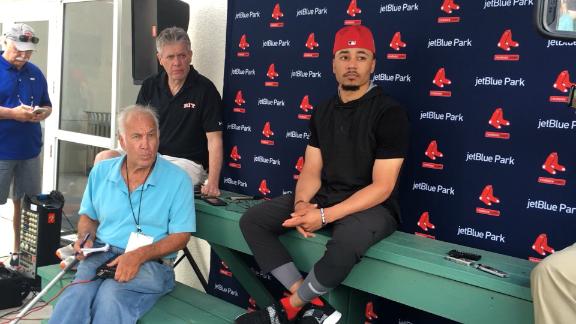 FORT MYERS, Fla. -- For a team that won 93 games and a division title, the Boston Red Sox rarely seemed to be having any fun last year. Now, as they prepare for a new season with practically the same roster, two prominent players are admitting there were problems in the clubhouse.
Mookie Betts said Thursday that the 2017 Red Sox felt "tension in the locker room." Xander Bogaerts took it further, describing "head-butts" and "disagreements" and expressing a need for the team to learn from the experience and go forward.
"I mean, we all know. We all know what was going on," Bogaerts said. "I don't think I really want to get into details. The quicker we move on is the better for all of us."
The Red Sox spent 105 days in first place last season and won the American League East by two games over the surging New York Yankees. But they fell in the first round of the playoffs for a second consecutive year, absorbing a pair of 8-2 blowouts in the first two games against the Houston Astros and getting eliminated in Game 4 at Fenway Park.
Mini-controversies were ever present with the Red Sox last season.
In April, television cameras caught second baseman Dustin Pedroia
February, 14, 2018
Feb 14
4:15
PM ET
Wendell Cruz/USA TODAY SportsRed Sox pitcher Chris Sale said on Wednesday that he's fine with the makeup of the clubhouse. "I like exactly where we are right now," he said. "I think we're right where we need to be."
FORT MYERS, Fla. -- It wasn't meant to be a guarantee or even a prediction. Think of it as just a friendly reminder from Chris Sale to anyone who is more focused on players not in camp with the Boston Red Sox than those who are.
"We basically, for the most part, have almost the same team that we did last year, and we were the best team in our division," the ace lefty said Wednesday. "I know people like to talk about this and that, but we were the best with what we have."
By "this," Sale might have been referring to Giancarlo Stanton, the reigning National League MVP who never indicated he would waive his no-trade clause for the Red Sox before approving a deal to the rival New York Yankees. And by "that," Sale most certainly was talking about J.D. Martinez, the marquee name among more than 100 free agents still unsigned even as spring-training camps open this week across Florida and Arizona.
The Red Sox have been most often linked to Martinez by virtue of their extreme need for a middle-of-the-order slugger. But president of baseball operations Dave Dombrowski and agent Scott Boras are at odds over a five-year contract offer reportedly worth between $100 million and $125 million. Martinez is believed to be seeking a seven-year deal for about $30 million annually.
Dombrowski declined to discuss whether the stalemate will eventually break. Indications, though, were that the situation between the Sox and Martinez was unchanged.
"I do not know if we're close to doing anything or not," Dombrowski said. "It's been a long, lengthy process, this wintertime. I don't think it's really changed a great deal. We continue to have conversations with a lot of clubs and agents. We'll see what happens. But I don't know that answer."
Dombrowski didn't plan on bringing back the same lineup that hit fewer home runs than any team in the American League last season. After the Red Sox were knocked out of the division series for a second year in a row, he admitted he didn't provide the team with enough offense.
If it was up to Dombrowski, Martinez would already be here.
"From a positional player perspective, no, [standing pat] wasn't, per se, our plan," Dombrowski said. "As I've said every single year of my career when people say, 'What do you think the winter time will bring,' I'll say, 'I don't know. I have no idea.' Because I don't. And this year's free-agent market is much different, and it's led us to be at this point now."
Regardless, most Red Sox players who have reported to camp like their chances to win a third consecutive AL East crown. They won 93 games in each of the past two seasons, including last year despite the fact that they never found a power hitter to replace retired David Ortiz.
The Yankees figure to be the popular pick after pairing Stanton with Aaron Judge
February, 14, 2018
Feb 14
1:40
PM ET
FORT MYERS, Fla. -- Steven Wright, speaking after Boston Red Sox pitchers and catchers completed their first workout of spring training, reiterated that he never made physical contact with his wife, Shannon, on the night of Dec. 8, when Wright was arrested at their home and charged with domestic assault and preventing a 911 call.
"I never touched her," Wright said Wednesday.
The charges, misdemeanors in Tennessee, were retired in Williamson County court in late December and will be dropped if additional offenses don't occur within the next year.
The Wright family also denied in a December statement, issued through lawyer Alex Little, that Wright had made physical contact with his wife during "a verbal argument."
Wright, a 33-year-old pitcher, said Wednesday that he and his wife have been going to counseling. He can't say much else about the incident until he speaks with investigators from Major League Baseball.
The joint agreement between MLB and its players allows the commissioner's office to conduct an independent investigation. Neither Wright nor the Red Sox has been given a timetable for when the investigation will be completed, but Wright expects to speak to MLB officials within the next few weeks.
"When it comes out, you obviously think of the worst," Wright said Wednesday, referring to news of the arrest. "But it wasn't that bad, especially on a personal level, especially because I never touched her. That's probably the hardest thing, for me to sit there and see people talk about being a wife-beater and all that stuff, and I didn't even make physical contact.
February, 13, 2018
Feb 13
2:36
PM ET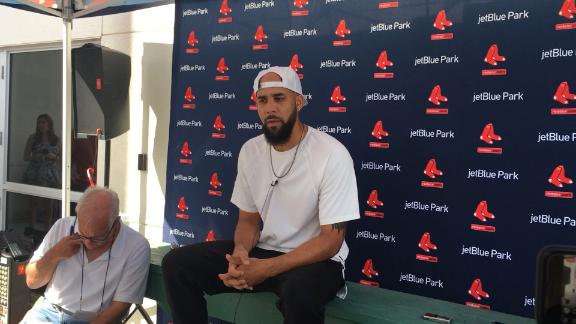 FORT MYERS, Fla. -- Above all else, David Price needs to stay healthy and pitch well this season. But his image could use a good cleansing, too.
And so, as he began his third spring training with the Boston Red Sox on Tuesday, Price volunteered to meet the media at the green picnic table outside the clubhouse -- the same spot where pitchers Josh Beckett and Jon Lester broke the ice about the infamous beer-and-chicken fiasco of 2011 -- and spent 18 minutes saying he behaved badly last season and insisting he isn't counting the days until he can opt out of his contract next winter.
"I could've handled it better last year, absolutely. But I didn't, and I've moved on," Price said. "I feel like I've always been one to lead with my actions, and I didn't do that very well last year. I know that and understand that, and I look forward to getting back and being that faucet and not being a drain."
Nifty metaphor aside, it was the first step toward possible redemption for Price, who at times has appeared miserable since signing a seven-year, $217 million contract before the 2016 season.
Price pitched better than he got credit for, though still not up to his All-Star standards, in 2016 before injuring his left elbow in spring training last year. Things only got worse when Price screamed at a reporter in a clubhouse hallway at Yankee Stadium in June. He also confronted Hall of Famer Dennis Eckersley on a team charter flight in late July over an innocuous comment on a television broadcast.
February, 13, 2018
Feb 13
7:30
AM ET
Billie Weiss/Boston Red Sox/Getty ImagesThe Red Sox are looking for more of the same from Drew Pomeranz, who was their most consistent starter last season.

Boston believes it has the arms to carry an offense that forgot how to hit homers last year. Here's what each starter needs to figure out first.

February, 12, 2018
Feb 12
2:46
PM ET
By
Travis Sawchik
| FanGraphs
Major league teams open camps this week under the most unusual of circumstances. For a variety of reasons, there are an unprecedented number of quality free agents remaining unsigned, including nine of FanGraphs' top-20-rated free agents. For a reference point, 19 of FanGraphs' top 20 free agents had signed by Jan. 23 last offseason. The Yankees and Dodgers have combined to spend just $12 million on free agents, which speaks to a number of the factors at play: the influence of a more punitive luxury tax, the seemingly uniform belief clubs have in the inefficiency of free-agent spending and teams holding back cash to court the talent available in next year's historic class.
The game is in an era of extremes. A record number of home runs were hit last season, the product of increased launch angles, a willingness to trade contact for power -- and perhaps a juiced ball. By FanGraphs' PITCHf/x data, velocity has increased every year since 2008. Relievers continue to soak up more and more innings. Even the way teams are constructed has become more extreme. More teams are being rebuilt in a more dramatic manner, in an NBA-like tanking fashion following the path of the Chicago Cubs and Houston Astros. There are a growing number of have-nots and superteams. For example, eight teams posted run differentials of 100 runs or greater last season; in 2011, 2012 and 2014, only four teams exceeded 100-plus run differentials. But in the same season, on the negative side of the ledger, nine teams had run differentials of minus-90 or worse in 2017, the most since 2007.
The game is at an unusual place, and because of it, there are contending teams -- and some teams in that middle ground that could contend -- with considerable question marks that remain unaddressed as spring training approaches. The good news? There is still time to answer these questions, and there is plenty of talent available.
February, 12, 2018
Feb 12
7:57
AM ET
Charles Krupa/AP PhotoThere was just a little bit of a difference between Mookie Betts' performances in the past two seasons.

Whether or not last year's power outage forces another move, bounce-back seasons from Mookie Betts and others could make a big difference in Boston.

February, 9, 2018
Feb 9
2:35
PM ET
Mary Altaffer/AP Photo
A healthy dose of managerial changes is nothing new.
When spring training officially opens next week in Florida and Arizona, six teams -- 20 percent -- will have a different skipper than the one who finished the 2017 season. That carousel was matched as recently as 2015 and 2013, and was surpassed by one in 2011.
But there is something different about the Class of 2018. They are generally younger and far less experienced than the current occupants of those 30 coveted jobs. They come not only from the dugout, but from the front office and the broadcast booth. What they might lack in on-the-job training is made up with education, enthusiasm and -- at least for now -- media savvy.
At least three skippers are taking over clubs where playing into late October is not only a possibility but an expectation. And one might even be on the hot seat if he does not finish the year on a podium shaking hands with Rob Manfred.
This year's crop bears little resemblance to Pop Fisher, the crusty manager of the floundering New York Knights in "The Natural." Here is a primer on the new field bosses who hope their hitters are blessed with swings reminiscent of Roy Hobbs:
---
Aaron Boone, New York Yankees
February, 9, 2018
Feb 9
7:21
AM ET
Bob DeChiara/USA TODAY SportsPay someone else? Deal Jackie Bradley Jr.? Here are some options if the Red Sox and J.D. Martinez are starting to sour on each other.

Pay someone else? Swing a deal? Stand pat? Here are five fallback options if the slugger and the Sox are souring on each other.