January, 21, 2018
Jan 21
5:57
PM ET
Associated Press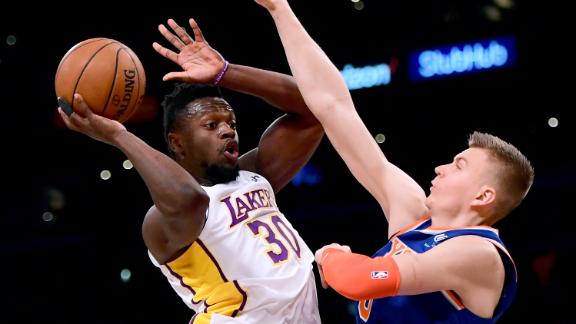 LOS ANGELES -- Jordan Clarkson had 29 points and 10 assists, Julius Randle added 27 points and 12 rebounds, and the Los Angeles Lakers beat the New York Knicks 127-107 on Sunday for their sixth win in eight games.
Kyle Kuzma added 15 points for the Lakers (17-29), who continued their midseason surge of solid play. Rookie point guard Alex Caruso set career highs with nine points and eight assists, making the most of extensive playing time in the absence of injured Lonzo Ball.
Kristaps Porzingis, Tim Hardaway Jr. and Michael Beasley scored 17 points apiece for the Knicks, who have lost 12 of 16. New York slipped to 2-2 on its seven-game trip.
Despite a solid shooting game, the Knicks couldn't keep up down the stretch with the Lakers, whose up-tempo offense flowed throughout their highest-scoring game in two weeks.
Ball missed his fourth consecutive game with a sore left knee, and Lakers coach Luke Walton said the rookie point guard might miss several more games.
But Clarkson followed up his 33-point performance Friday against Indiana with another high-energy effort. The veteran guard hit 12 of his 19 shots and added six rebounds.