Teams that might target Ndamukong Suh after expected release
March, 12, 2018
Mar 12
1:30
PM ET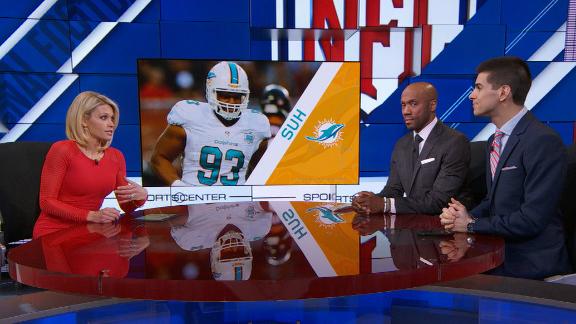 Dolphins receiver Jarvis Landry was traded to the Cleveland Browns on Friday. Ndamukong Suh could be the next player to depart Miami. Suh's release will likely happen Wednesday, according to ESPN's Jeff Darlington. Here's a look at teams that might target the former All-Pro tackle for the Lions and Dolphins:
The Falcons would have interest in Suh because they sorely need a defensive tackle capable of applying pressure from the interior next to nose tackle Grady Jarrett, with Vic Beasley and Takk McKinley rushing off the edges. It's not just about sacks, either, as Suh can cause quick throws and make quarterbacks think twice while putting hits on them. But the Falcons don't have a ton of cap space and likely won't get into a bidding war for Suh, no matter how tempting it might sound. -- Vaughn McClure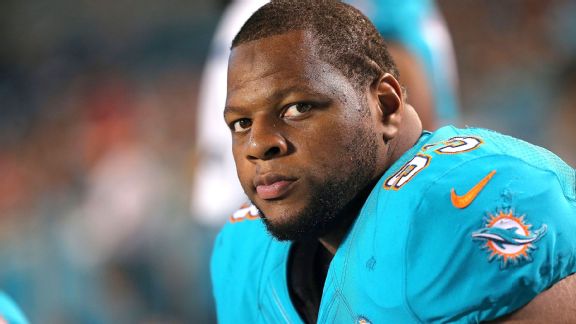 Mike Ehrmann/Getty ImagesNdamukong Suh has 51.5 sacks in eight NFL seasons, five with Detroit and three with Miami.

Suh fits the mold of the 4-3 defensive tackle Buffalo desperately needs with Marcell Dareus gone and Kyle Williams heading for free agency or retirement. The Bills' signing cornerback Vontae Davis to a one-year worth up to $8 million showed they could be in the market for older, more accomplished free agents. If the price tag is right, Suh could fit that bill. -- Mike Rodak
The Lions need interior defensive line help and Suh is one of the best out there. He knows the city and some of the personnel after being the No. 2 overall pick to the Lions in 2010 -- and Detroit had a dominant defense with Suh on the roster in 2014. The question, though, is whether Suh would want to come back to Detroit and whether the Lions' new front office would want to bring him back. Remember, Suh didn't have the most sterling reputation in Detroit. -- Michael Rothstein
The Rams could plug in Suh between Aaron Donald and Michael Brockers, forming a devastating defensive line to pair with what is already a star-studded secondary. But they're running low on cap space and might be outbid for his services, especially if they're still looking to retain wide receiver Sammy Watkins. -- Alden Gonzalez
The Saints are obviously on the lookout for a disruptive defensive tackle since they brought in Muhammad Wilkerson for a visit last week and signed Nick Fairley to a long-term deal last year before his heart issue was discovered. Whether they're interested in Suh (and his price tag) remains to be seen. But this is a good year to be in the market for a DT with Suh, Wilkerson, Sheldon Richardson, Star Lotulelei and Dontari Poe among the possibilities. -- Michael Triplett
Khalil Mack needs help with an interior pass rush. Bruce Irvin needs help with an interior push. So sure, the Raiders, whose 31 sacks last season ranked tied for 24th in the NFL, could more than use Suh. But Oakland still needs to sign Mack to a long-term extension and, with less than $17 million in cap space at the moment, if they could not afford to address another need at cornerback in Richard Sherman, how could they pony up for Suh, who surely will command top dollar? -- Paul Gutierrez
The Seahawks' pass rush and their run defense underperformed in 2017. That was with Michael Bennett (traded to the Eagles), Sheldon Richardson (an unrestricted free agent) and, for part of the season, Cliff Avril (not expected back). Suh wouldn't accomplish Seattle's goal of getting younger and he'll likely be very expensive, perhaps prohibitively so for the Seahawks. But he'd be an All-Pro reinforcement for a defense that stands to lose a great deal of star power, including up front but also in the secondary with Richard Sherman now in San Francisco. -- Brady Henderson
The Bucs need pass rush help, and lining up Suh next to six-time Pro Bowler Gerald McCoy would be an incredible combination. However, the Bucs are placing more emphasis this offseason on players who fit with the locker room from a personality standpoint, so that would be a big concern with Suh. -- Jenna Laine