January, 18, 2018
Jan 18
5:50
PM ET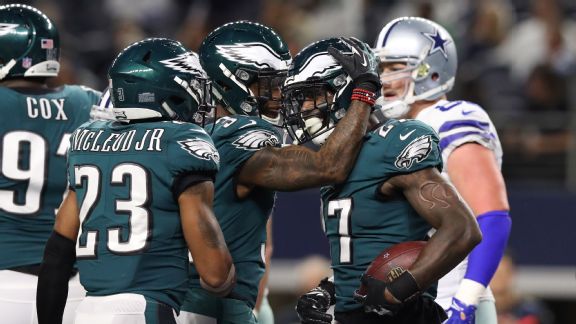 Matthew Emmons/USA TODAY SportsMalcolm Jenkins and the Eagles rank third in the NFL with 22 takeaways.

Eagles safety Malcolm Jenkins welcomed his second daughter into the world this week and now is focused on the NFC Chamionship Game.

January, 18, 2018
Jan 18
5:11
PM ET
AP Photo/David RichardSean McVay of the Rams was named Coach of the Year by the Pro Football Writers of America.
LOS ANGELES -- Sean McVay, the youngest head coach in modern NFL history, was named Coach of the Year by the Pro Football Writers of America on Thursday, a testament to the Los Angeles Rams' stunning turnaround under his watch.
The Rams finished 11-5 in McVay's first season, winning their first division title since 2003 and becoming the first team in the Super Bowl era to go from last to first in scoring in consecutive years. McVay, who turns 32 next Wednesday, inherited a franchise coming off 10 consecutive losing seasons and led it to a plus-149 point differential.
The Pro Football Writers also named Howie Roseman, the Philadelphia Eagles' executive vice president of football operations, as Executive of the Year and Minnesota Vikings offensive coordinator Pat Shurmur as Assistant Coach of the Year.
Roseman's Eagles host Shurmur's Vikings in the NFC Championship Game on Sunday, with kickoff set for 6:40 p.m. ET on FOX.
January, 18, 2018
Jan 18
9:00
AM ET
January, 18, 2018
Jan 18
7:00
AM ET
January, 17, 2018
Jan 17
5:55
PM ET
January, 17, 2018
Jan 17
5:19
PM ET
PHILADELPHIA -- It all started late last week, when offensive tackle Lane Johnson and defensive end Chris Long concocted a plan to have dog masks ready for when the underdog Philadelphia Eagles upset the Atlanta Falcons on Saturday night. The Eagles won and the dog craze took off, coming a long way in less than a week.
Johnson had T-shirts made that read "Home Dogs Gonna Eat," with pictures of him and Long on the front. There were more than 3,000 sold and around $55,000 raised for Philadelphia schools as of Tuesday night.
All proceeds from the shirts are earmarked for the Fund for the School District of Philadelphia, according to Johnson.
"We figured it would be a good way to raise some money for the schools," Johnson said Wednesday. "The mask took off. Didn't expect it to turn out the way it is."
The Eagles (13-3) are the top seed in the NFC playoffs. But they will be underdogs again when they play host to the Minnesota Vikings on Sunday in the NFC Championship Game. The Lincoln Financial Field stands are expected to be filled with the German shepherd dog masks that Long and Johnson wore on the field and in the locker room after Saturday's 15-10 victory over the Falcons.
The Eagles have already told fans the masks will be permitted in the stadium on Sunday. Johnson warns, however, that it may not be the best idea to wear them for the entire game.
"I just want people to know it's kind of hard to see out of those masks," Johnson said. "So if they put it on, they can't really watch the game. Just warning you. But it's cool. Awesome."
January, 17, 2018
Jan 17
3:45
PM ET
EDEN PRAIRIE, Minn. -- Temperatures in Philadelphia are expected to hover around the mid- to upper-30s Sunday when the NFC Championship Game kicks off at Lincoln Financial Field, so the Minnesota Vikings are preparing for what could be a rough night on a sloppy field.
Vikings coach Mike Zimmer showed film to players on Wednesday of all the slippage that occurred when the Eagles defeated the Falcons last weekend, including Atlanta's final attempt to score a go-ahead touchdown at the goal line.
On fourth down with 1:05 left, Falcons receiver Julio Jones slipped in the end zone and fell. Jones recovered and quarterback Matt Ryan went to him on a second attempt, but the receiver mistimed his reaction to the throw and the ball sailed through his hands.
The Vikings are used to playing outdoors in similar field conditions in Chicago and Green Bay and have multiple options of cleats they could wear. Defensive end Everson Griffen said he might experiment with seven-stud cleats. Testing the playing surface before the game will help determine the needed length of the cleat.
"If it's to the point where you're slipping and you go out for pregame warm-ups and you don't feel comfortable with the normal cleats then, yeah, you definitely have that option to have the longer cleat," wide receiver Adam Thielen said.
January, 17, 2018
Jan 17
1:50
PM ET
EDEN PRAIRIE, Minn. -- Minnesota Vikings Pro Bowl receiver Adam Thielen did not practice Wednesday because of lower back injury.
Safety Andrew Sendejo, meanwhile, participated in a portion of practice and appears on track to start Sunday despite a concussion he suffered in the divisional round of the playoffs. Zimmer said Sendejo will "be fine."
Thielen's injury apparently occurred during the Vikings' 29-24 victory Sunday over the New Orleans Saints. Coach Mike Zimmer did not mention it while speaking with reporters Wednesday morning, and Thielen did not comment.
There is no fear at this point that Thielen will miss Sunday's NFC Championship Game against the Philadelphia Eagles. But it is unclear how much he'll practice, if at all, this week.
Sendejo remains in the NFL's concussion protocol, but has advanced through enough stages to qualify for partial practice participation and was officially listed as limited on Wednesday. He won't officially be cleared until later this week, when he visits with an independent neurologist, but the Vikings appear confident he will be ready.
Sendejo's return would put the Vikings' top-ranked defense at nearly 100 percent entering Sunday's game. The only question mark is backup defensive lineman Shamar Stephen, who is dealing with a knee injury.
Thielen played 95 percent of the Vikings' offensive snaps (77 of 81) against the Saints. He did not join the team's end zone celebration after Stefon Diggs
January, 17, 2018
Jan 17
11:09
AM ET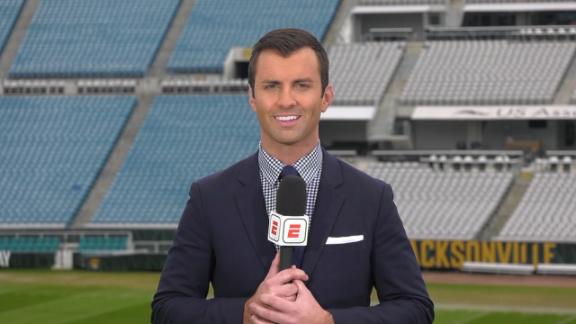 NFL Nation reporters assess the biggest injuries for this weekend's conference championship games.
Go to: Schedule | Resetting the bracket
---
January, 17, 2018
Jan 17
7:00
AM ET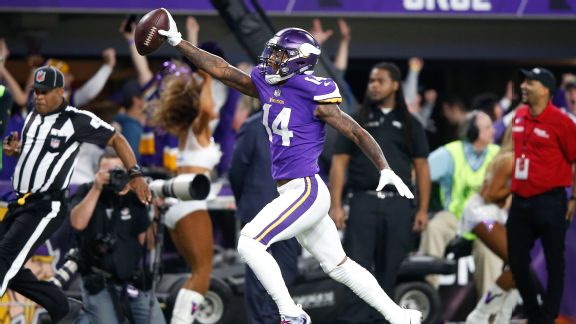 Jamie Squire/Getty ImagesThe Vikings' Stefon Diggs scores a touchdown as time expires against the Saints to set up a meeting with the Eagles in the NFC Championship Game.

The Eagles have avoided giving up the type of late game-winning drives this season that they watched the Vikings pull off on Sunday.