Commentary
Chris Paul and the pursuit of passing perfection
Originally Published:
January 12, 2018
By
Tim MacMahon
| ESPN.com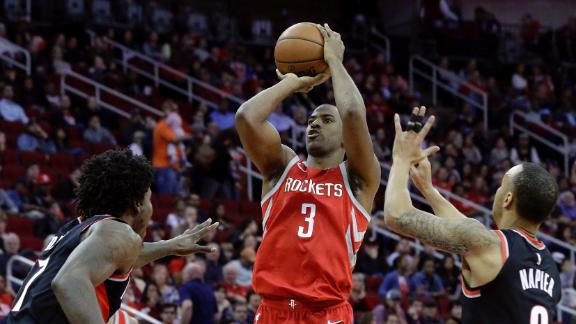 CP3's big night leads Rockets past Blazers
Chris Paul records a season-high 37 points as the Rockets top Damian Lillard and the Trail Blazers 121-112 to improve Houston's record to 19-4 with CP3 in the lineup.
CP3's big night leads Rockets past Blazers
NEXT VIDEO
Chris Paul tapped his chest and mouthed "My bad" to Ryan Anderson after delivering a less-than-perfect pass to his wide-open Houston Rockets teammate.
"Really, man?" Anderson responded.
More from ESPN.com
Filling the void created by James Harden's injury, Chris Paul took 29 shots and scored 37 points, hitting several big buckets in crunch time to lead Houston past Portland. Story
---
Rockets guard Chris Paul did not hold back his frustrations with veteran referee Scott Foster after Wednesday's win over Portland, adding to the growing tension between players and officials. Story
Anderson wasn't upset about the pass. He was taken aback that Paul apologized after an assist.
Paul had just driven the lane, drawing four Orlando Magic defenders before leaping from the right block and firing a right-hand fastball to Anderson in the left corner, squeezing the pass through a tiny window between the arms of Orlando's Bismack Biyombo and Jonathan Simmons.
Anderson caught the ball above his right shoulder -- not Paul's intended target of right between the numbers -- but had plenty of time to get off his shot given that his defender was sprinting from the paint after helping on Paul's drive.
"It wasn't that bad of a pass at all," Anderson said. "What do you expect? He's special, man."
It doesn't matter if he's twisting and turning in traffic or throwing a cross-court, sidearm laser or whatever the degree of difficulty might be -- Paul expects each pass he delivers to be perfect. It's not acceptable for one of his feeds to be a tick late or a few inches off target.
"I'm trying to make the shot as easy as possible for the guy who's shooting," said Paul, who leads all active players and ranks 10th all time with 8,466 career assists. "We all have a job. A shooter's job is to make shots. My job is to put the ball on target.
"On time, on target."
That's not a skill Paul developed over the course of his 13-year NBA career. He arrived in the league as a remarkably accurate passer.
"His passes are going to get there," said Golden State Warriors forward David West, who received 1,120 assists from Paul during their time together with the Oklahoma City/New Orleans Hornets, more than any CP3 teammate other than LA Clippers forward Blake Griffin.
"You don't have to reach for them or anything," West said. "He's going to hit you on time, on target so you can get in your shot."
But on-time, on-target passes simply aren't enough to satisfy Paul; even the ball's laces need to match the way that particular teammate likes them.
Troy Taormina-USA TODAY SportsChris Paul is always one step ahead when setting up the perfect assist.
"They put the laces on the ball for a reason," Paul said. And he has felt the ball in his hands enough to be able to throw passes with the preferred rotation, even on split-second decisions.
"It's probably my OCD," Paul said. "It's understanding how important the little things are."
Passing isn't just an art and a science for Paul. It's an obsession. That's one of the reasons Paul, whose career average of 9.9 assists per game ranks behind only Magic Johnson and John Stockton, has established himself as one of the premier passers in NBA history.
---
The most steals Paul ever had in a game is nine, which came at the expense of Jason Kidd's Dallas Mavericks. One of his four career eight-steal performances came against Steve Nash's Phoenix Suns. It's not a coincidence Paul created so many turnovers against the men who rank second and third, respectively, in career assists. He watched Kidd and Nash so often, wanting to learn as much about the passing craft as possible, that he quickly pinpointed all their tendencies.
Paul points to his head when asked about the primary factors of being an elite passer. Nothing matters more than knowledge of the game.
"I almost think of it like a chess player," said Paul, who has led the league in assists four times and would rank second with 9.2 per game this season if he had played enough games to qualify. "You just sort of see it before it happens."
"

I almost think of it like a chess player. You just sort of see it before it happens.

"- Rockets G Chris Paul, on his passing prowess
Paul often speaks of the simplicity of the game, particularly the pick-and-roll, his bread and butter.
As he comes off the ball screen, he's reading the opposing big man and the low help defender. If the big plays up and the help defender hugs the shooter in the corner, Paul will probably get his center rolling down the lane a dunk or a layup, throwing a lob or a bounce pass depending on the window. Help too much, and Paul hits his shooter for a 3. If the big sags, one of the most lethal midrange shooters of all time is pulling up.
"As far as a read, there [aren't many] different things you can do," Paul said.
The game is simple to Paul because he has studied it so much. He prides himself on watching as much video as any player in the league. "Engulfed in the game," is the way Paul puts it. He knows the intricate details of every opposing defense and anticipates how to exploit them, the benefit of supreme basketball intelligence and more than 30,000 minutes of NBA experience.
Top 10 beneficiaries of CP3 assists
| PLAYER | FGM |
| --- | --- |
| Blake Griffin | 1,157 |
| David West | 1,120 |
| JJ Redick | 634 |
| DeAndre Jordan | 574 |
| Peja Stojakovic | 429 |
| Rasual Butler | 320 |
| Tyson Chandler | 299 |
| Jamal Crawford | 260 |
| Matt Barnes | 226 |
| Caron Butler | 217 |
"He manipulates the game to do what he wants it to do," said Rockets small forward Trevor Ariza, who also played with Paul in New Orleans.
Paul frequently sees how an opponent is defending a set and files it away, knowing exactly how he can get a teammate an easy shot the next time. That often means making an on-the-fly tweak, explaining to a teammate how he can make an adjustment to get a wide-open look.
"It's crazy how he'll see it. He'll tell you, and then it'll happen just like he said it would," Rockets forward PJ Tucker said.
Paul doesn't only focus on defensive schemes when he studies opponents. He's looking for trends with individual defenders -- who gambles and who doesn't and tendencies on hand placement -- seeking clues on where his passing windows will open.
And Paul, who also leads active players in career steals and is tied for 13th all time with 1,957, thinks about passing through the prism of a defender. That's what prompted him to work hard on the aspect of his passing that he's perhaps most proud of: the ability to use his left hand to throw pocket passes and hook passes.
Troy Taormina-USA TODAY SportsRockets forward PJ Tucker is amazed by CP3's precision: "It's crazy how he'll see it. He'll tell you, and then it'll happen just like he said it would."
"Right-handed guys that pass it like that, guess what that means?" Paul said, demonstrating how players reach across their bodies with their right hand before flipping backhand passes. "They're dribbling with their left and have to bring this other hand to pass it.
"So I steal it all the time."
Paul then recommended some quick film study for a reporter, suggesting one of his favorite passes he has thrown this season, a dish to center Nene for a layup during a recent home win over the Los Angeles Lakers.
"Left hand," Paul said. "Look at it."
It is, indeed, a beautiful left-handed pass. Paul has Lakers backup point guard Alex Caruso on his right hip after coming off Nene's ball screen and slings an off-the-dribble, southpaw bounce pass that the Rockets reserve big man catches in stride at the dotted line. That led Nene right into a layup between a big man forced to cut off Paul's penetration and a help defender who didn't want to give Gerald Green an open look in the opposite corner.
The perfect pass. No apology necessary.
ESPN Staff Writer
Joined ESPNDallas.com in September 2009
Covers the Dallas Cowboys and Dallas Mavericks
Appears regularly on ESPN Dallas 103.3 FM