Crosby knocks in winning FG as time expires
Rodgers drops perfect TD pass to Adams to tie game
Aaron Rodgers lobs a pass just past a defender to Davante Adams, who makes the catch as the Packers tie the game with under 2 minutes to go.
Rodgers reflects on another game-winning drive
Aaron Rodgers discusses Mason Crosby's bounce-back game and breaks down the game-winning drive against the 49ers.
Rodgers engineers masterful game-winning drive in final minute
Aaron Rodgers drives the Packers from their own 24 to the 49ers' 9-yard line in the final minute to set up a Mason Crosby field goal.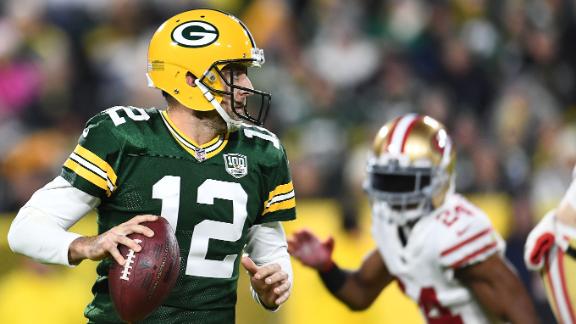 Goodwin speeds past Packers' D for 67-yard touchdown
C.J. Beathard airs the ball out to Marquise Goodwin who uses his great speed to make the catch in stride for a long score.
Beathard throws costly interception late
C.J. Beathard sends a pass intended for Marquise Goodwin, but Kevin King jumps up for the interception as the Packers take over with 1:07 left.
Goodwin hits pay dirt twice in first half
C.J. Beathard airs it out to Marquise Goodwin for a 67-yard score in the first quarter and follows it up with a 30-yard touchdown in the second.
Rodgers' incomplete pass causes Packers to turn it over
Aaron Rodgers tries to find Marquez Valdes-Scantling on fourth down, but his pass falls incomplete as the 49ers take over.
Beathard finds Goodwin again for touchdown
C.J. Beathard tosses a pass to Marquise Goodwin, who runs forwards and dives into the end zone, his second score of the game.
Norman climbs ladder to intercept Newton
Josh Norman takes advantage of an underthrown ball by Cam Newton, going airborne to come down with the pick.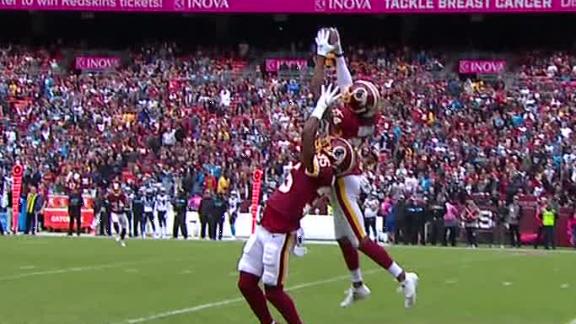 It's not too late to play!
Iveta Karpathyova

The Saints QB is now the all-time passing yards leader in NFL history. We track his path to 71,968 yards.
Photo by Larry Radloff/Icon Sportswire

With 21 roughing the passer penalties through 31 games, the league is on an unprecedented pace for the season. Players seem unclear on what's next.
Joel Kimmel

Bill Belichick was a sophomore at Wesleyan when a dangerous practice tactic left the future Patriots coach injured and fuming.
Customize ESPN